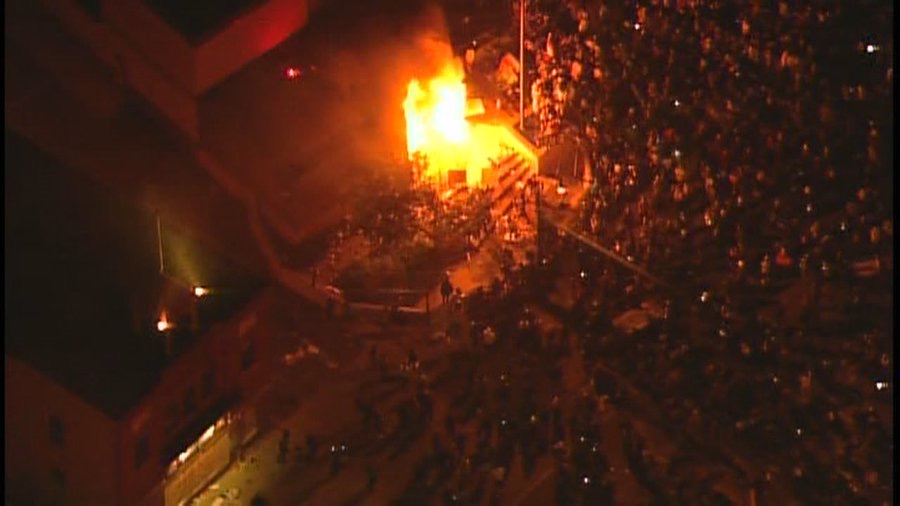 Minneapolis 3rd Precinct Police Station on fire – May 28 2020.
Image description: Eagle eye view of large crowd of protesters around a police station on fire.
For George Floyd 
For Breonna Taylor 
For Regis Korchinski Paquet
For Tony McDade
For Ahmaud Arbery
For Nia Wilson
For Steven Taylor
For Alan Blueford 
For Oscar Grant 
For all those murdered by Anti-Black Violence
We condemn the racist murdering Minneapolis police department and all police that terrorize and kill Black and Brown and Indigenous people daily. 
We condemn the use of harassment tactics under the guise of pandemic protection.
We condemn white nationalism, white fragility, white supremacy and white vigilantism.
We condemn the media's framing of public rage about police violence as the work of provocateurs and outside agitators.
We stand in solidarity with the people in the streets of Minneapolis. 
We stand in solidarity with the people in the streets of New York City. 
We stand in solidarity with the people in the streets of Atlanta, Washington DC, Chicago, Los Angeles, Houston, Portland, Las Vegas, Missouri, Ohio, Arizona, Wisconsin…  
We stand in solidarity with the Berkeley High students and those in San Jose who blocked the highway.
We stand in solidarity with those gathering around the Bay Area this week and in the days to come.
We stand in solidarity with those that can't get in the streets and instead are in their cars in caravans, holding vigils or on virtual protests.
We stand in solidarity with the bus drivers that refuse to drive those who were arrested.
We stand in solidarity with the "looters" and the "thugs" and all those who liberate what we need.
We stand in solidarity with the fireworks and the flames.
For those that choose to be in the streets today/ tomorrow/ the next days – a few reminders to help protect you and others from police repression and Covid-19. 
PROTECT EACH OTHER & PROTECT YOURSELF BY MASKING UP: What better time to wear a mask when you can protect others from the Coronavirus and protect yourself from surveillance. Bring extra masks to replace after tear gassing. Remember if you have to take off your mask, protect yourself from surveillance and the virus. Take a cold shower when you get home for tear gas and Covid reasons.  
DO NOT TAKE PICTURES / DO NOT LIVE STREAM/ DO NOT POST ON SOCIAL MEDIA: We know the police and the DA use this footage to later arrest and charge people for crimes that were associated with the demonstrations. Don't be a virtual snitch!       
WRITE THE NLG NUMBER: 415-285-1011 in permanent marker on your body – call this number from jail if you are arrested. This number will accept collect calls from any Bay Area jail.    
Call the Public NLG Hotline: 415-909-4NLG  to report arrests, if you have been cited and released, police misconduct, cops gathering in larger numbers, or to check on your friends and family who have already been arrested.   
OTHER WAYS TO SUPPORT:
We are working directly with the National Lawyers Guild to provide legal and jail support. 
As of this writing, we know most of those arrested were cited and released.  We know that anti-repression support will  look different under the new COVID-19 policies but keep an eye out for updates.
For ways to support Minneapolis uprisings please check out the Minnesota Freedom Fund for latest updates on where to direct support and donations at https://minnesotafreedomfund.org/
To support arrestees in NYC, please make a donation to either Venmo – @bailoutnycmay – or to CashApp – $bailoutnycmay
To help post bail for medically vulnerable people held in NYC jails, check out COVID Bailout NYC at https://www.covidbailout.org/ 
Please be patient as information changes rapidly and please continue checking for updates on our website: https://antirepressionbayarea.com  
Follow us for updates:
Twitter: @arcbayarea
With Love and Rage, 
Bay Area Anti-Repression Committee