Saturday, January 24th at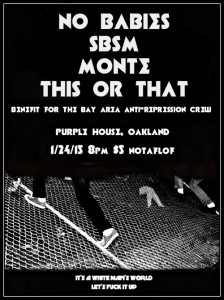 8:00pm
Purple House
Show to benefit the AntiRepression Committee!
No Babies
nobabies.bandcamp.com
SBSM
http://sbsmoakland.bandcamp.com/
Monte
https://www.facebook.com/pages/MONTE
This Or That
https://thisorthat.bandcamp.com/
$5 donations at the door, NOTAFLOF
Hundreds of people have been arrested, cited, brought to court, and attacked by police in the ongoing protests. Black and Brown people are being targeted especially hard by the State. Come show solidarity and support those arrested!
More on the ARC – https://antirepressionbayarea.com/
https://www.facebook.com/events/629742807129995/?ref_dashboard_filter=upcoming