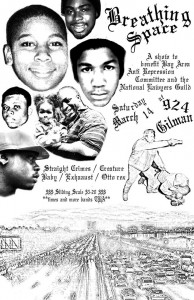 Saturday, 14 March 2015
924 Gilman Street, Berkeley, California 94710.
An All Ages DIY, Volunteer Run, 501(c)(3) Nonprofit, Music & Art Community Space Since 1986.
STRAIGHT CRIMES/ CREATURE BABY /OTTO REX/ EXHAAUST
**more bands TBA**
https://www.facebook.com/events/1590362437849837/
Over 500 people have been arrested in the East Bay alone protesting the failure of the system to hold police accountable for the murder of black men in this country, Michael Brown and Eric Garner recently, but too many more to name.
These protests have gone beyond appealing to the justice system to acting against the economic and social structures that deny the value of black lives. They have taken direct and creative routes.
Many of the arrests made targeted black men, and many are still held in jail on ridiculously high bail. Many people have been brutalized.
The money raised at this show will go directly to these folks, putting money on their books, making sure they have legal defense, rides home from jail, and bail money when needed. Together we are strong!
924 Gilman Street Benefit for the National Lawyer's Guild and the Bay Area Anti Repression Committee:
National Lawyer's Guild
http://www.nlg.org/
Bay Area Anti Repression Committee
https://antirepressionbayarea.com/