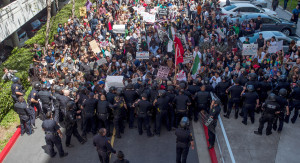 Last Monday Manny had court at the San Mateo Courthouse. Below is the update from his attorney:
On November 28, 2016, the motion to suppress was heard in a case arising from the demonstration outside the Hyatt Regency in Burlingame during President-Elect Trump's appearance on April 29, 2016.  The prosecution presented testimony from an officer and a deputy.  During the hearing, the prosecution disclosed body camera footage, which had been sent to it by the Menlo PD in response to my CPRA request.  The DA had previously said there were no body cameras.

The hearing was continued to December 16, 2016, when [Manny] will present the defense case.  In light of the new evidence, he intends on calling the officer with the body camera, as well as, demonstrator and LO witnesses.  He really needs court support.
Manny's next court appearance is:
Friday Dec. 16th 2016 at 1:30pm
Either Redwood City or South San Francisco Courthouse
The attorney will have confirmation Wednesday on which courthouse his appearance will be in. Please stay tuned! He could really use the support!