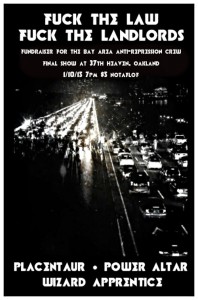 Saturday January 10th 7:00pm @ 37th heaven
Antirepression Crew is in need of money and we're gonna put on a show to help them out. They do amazing work and have helped many people fight the bullshit the state inflicts on our friends and comrades. This is also 37th Heaven's goodbye show because their piece of shit delusional scummy ass poser "punk" landlord is pricing them out of their house…. but we're gonna celebrate the beautiful, wonderful people that live there anyway.
Bands:
Placentaur (self-identified dumb bitch sand princess mermaid)
https://placentaur.bandcamp.com/
Wizard Apprentice (black futurist digital folk, professional heart-string player)
http://www.wizard-apprentice.com/
Power Altar (Kim coming back to us from LA bringing
anti-colonial high vibrational synth pop)

$5 – no one turned away, but 4 real help out if you can.